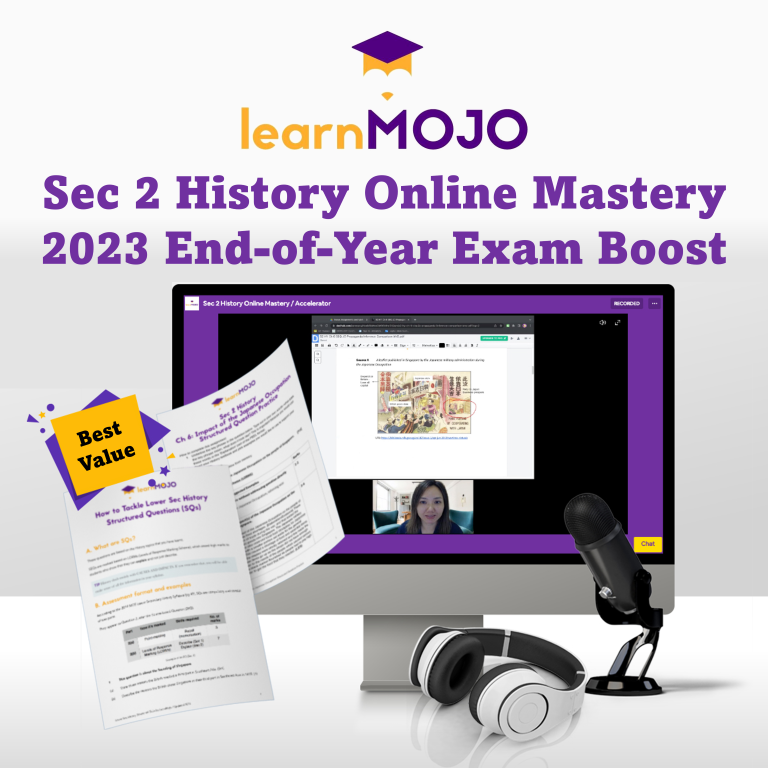 Give your child an advantage at the upcoming Upper Secondary Subject Option Exercise.
Score well in the Sec 2 History End-of-Year Exams without wasting time on futile practices.
Designed by Ms Karen Ang, an ex-MOE teacher with 18 years of teaching experience, you can expect your teen to go from feeling lost and confused to being able to …
Look at any source thrown at him/her and interpret it accurately
Craft high-scoring answers to any source-based questions within minutes
Write less than other students and score the highest marks in the LORMs
Effectively retain and recall the content needed for essay questions
Calmly and confidently complete the entire History exam without leaving any questions half-done or blank
Course duration: From sign up to 22 Oct 2023
By LearnMOJO x Kainetik Learning Centre
If your Secondary 2 teen is struggling to score well in History and you're worried about it affecting his chances of getting his desired subject combination at the upcoming Upper Sec Subject Option Exercise, you've come to the right place.
Many parents have come to us saying that they cannot help their teens with History, because the syllabus has changed so much.
As compared to the old days when pure regurgitation of facts was enough to score an A1 or A2, this is what happens now…
Your child:
Puts in hours to read the textbook and maybe memorises some (or all) of the content
Tries to pay attention in school History lessons
Does a few Source-based and Essay practices here and there
And yet struggles to get anything higher than C5 or C6 when it comes to the exams
Is it any wonder why students feel so lost, confused and disengaged about mastering History?
To secure your child's access to this course,
please scroll down to the end of this page.
Why Many Students Struggle to Do Well in History Exams,
Even If They Like History and Memorise Well
Just memorising is no longer enough.
The History exam now demands students to hone their critical thinking skills: they need to understand, recall, infer, interpret, compare, analyse, explain, and critically evaluate sources of information while learning about historical Issues.
It's quite a lot to ask of a 13 or 14 year old teen.
And while students may understand what they read, they struggle to apply learnings to different exam question types.
It's like being given a whole box of beautiful and exotic imported food ingredients without any idea how to prep and combine them into a delicious meal.
It all boils down to exam techniques – when to use what information, why use that information in that way, and how to net the highest marks in minimal time.
And exam techniques can only be mastered by FOCUSED and TARGETED timed practices, coupled with SPECIFIC and MEANINGFUL feedback.
The above process needs to go back and forth on a regular enough basis until the learnings stick.
You see, while History teachers in schools try their best to cover the needed content and skills, the truth is that they get very limited time with each class, and History teachers teach anywhere from 7 to 10 classes (200 to 400 students) at any one point of time.
There is simply not enough time to give sufficient practice assignments and mark them all quickly, unlike Math.
We want to help.
This course aims to help your child improve by at least 2 grades using the best tools, guides, guidance through weekly live online lessons & 24/7 Q&A support by Ms Karen Ang, Principal & Founder of learnMOJO, an online education provider that has provided full online coaching to Humanities students since 2014.
Teacher Karen has seen thousands of teens (and counting) through the school and national exams.
Every year, between 70% to 90+% of her O level students score A1 and A2 grades despite coming to her with fail or borderline pass grades, outperforming the national distinction average of 28% to 34%.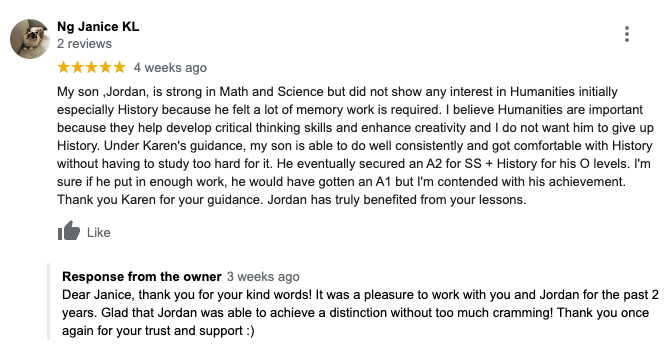 We believe that your teen can also experience such a transformation.
The thing is, due to her full schedule, Ms Karen Ang is no longer able to take in individual or small group students.
The only way to get access to her right now would be through the Sec 2 History 2023 End-of-Year Revision.
Conducted entirely online, this course distills all the important insights and wisdom from Teacher Karen's 18-year teaching career guiding thousands of teens, aimed at helping your child to:
Sidestep easily avoidable and costly mistakes that the vast majority of students make
Nail those tricky Source-based and Structured questions in a step-by-step manner
Unlock the secrets to scoring top marks without having to write long-winded answers
All from the comfort and safety of home, without having to travel to a tuition centre.
30 Printable Source-based Question and Structured Question Practices based on the current MOE syllabus – specifically designed to help your teen master the different source-based and essay exam questions in a sequential and logical manner
Levels of Response Mark Schemes (LORMs) with suggested answer examples – no guesswork as to what exam markers are looking for
Companion Guides on how to use LORMs – so your child can progress towards being able to self-mark and self-diagnose problem areas…while the vast majority of Sec 2 and even Upper Secondary students are still unable to do this!
Chapter summaries – quick memorisation aids which break down huge chapters into digestible chunks
Chapter quizzes – to help your teen recall relevant supporting facts and score high marks during their tests and exams
Lesson recordings of all 27 weekly lessons of the earlier full-year course, where Teacher Karen goes through common mistakes and how to score highest marks for each Practice in Question Bank in the shortest time possible
Daily Q&A support through a private online discussion board 
Access to all course materials until 22 October 2023.
Everything in Option A, plus …
5 Interactive Live Online Lessons
Every Friday, 7.30 PM to 8.30 PM
From 1 to 29 Sep 2023
Bonus 1: Inference & Comparison Source-based Practice on the Japanese Occupation & Answer Scheme
Bonus 2: Structured Question Practice on the Japanese Occupation & Answer Scheme
Bonus 3: ALL of learnMOJO's Lower Secondary Source-based and Essay Guides
Inference Source-based Question (SBQ) Guide
Compare & Contrast SBQ Guide
Reliability SBQ Guide
Usefulness SBQ Guide
How to Tackle History Essay Questions
How to Tackle the Actual History Exam
Bonus 4:
Interactive online lesson : "How On Earth Do I Study for History?"
The lesson has been completed and the recording is ready for your review right after signing up.
Please see a selected segment of the recording below.
Frequently-Asked Questions
Secure Your Child's Access Now